Pediatric dentist in Foxborough
Pediatric dental exams and cleanings two times per year are the foundation of oral well-being for your child. At the office of Robert Sibilia DMD, we're proud of our friendly, welcoming atmosphere and the patience and kindness exhibited by our entire staff, and especially by our
pediatric dentist in Foxborough
.
When things are familiar, they are less likely to produce anxiety or fear. It is our goal to ensure that your child feels 100% at ease when she or he comes in; especially for the first time. Our pediatric dentist in Foxborough will do a physical examination and visual inspection of your child's teeth and gums. Many things can be determined from this, including if there are any loose teeth or fillings to be addressed. In addition, your child's bite (occlusion) is analyzed. In order to determine if any cavities have formed in her or his teeth, our pediatric dentist in Foxborough takes x-rays. Ours are digital, so there is significantly less exposure to radiation; up to 90% less. The safety of your child is always our top priority. The more promptly any cavity is addressed, the better. Large cavities start out as small ones. Without a timely filling, toothaches, infections, and extractions might follow. Prevention of future cavities (and gum disease) is also vital. A teeth cleaning removes tartar buildup and residual plaque, which together cause tooth decay, cavities, and gum disease. In fact, early stage gum disease (gingivitis) can be reversed with a professional teeth cleaning.
When you think about the potential consequences of not doing so, it becomes crystal clear that a visit to our office once every six months is more than worth the minimal amount of effort involved. Our pediatric dental exams and cleanings are key to avoiding discomfort, pain, and complications for your child. Why not call us 
pediatric dentist in Foxborough
right now and arrange an appointment?
By Robert F. Sibilia, DMD
March 20, 2018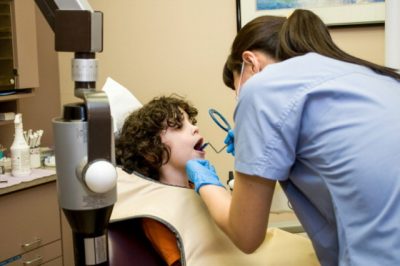 Blog Posts
Follow Us